It's been so long since the last time I posted for the
Guiltless Gourmand
. In case you just tuned in, this is where I offer you free recipes. Recipe page found here.
Since I have been struggling with weight loss for months now, we decided to try out a salad for the blog and for our tummies as well.
Spicy Thai Beef Salad
Ingredients:
300 grams beef
1/2 tsp sald
1/4 tsp black pepper
1 red onion
1 celery
1 cucumber
8 pieces cherry tomato or 4 large ones
5 stalks spring onion
For the dressing:
4 tbsp Nam Pla (Thai Fish Sauce)
6 tbsp lime juice of calamansi juice
2 tbsp white sugar
3 cloves garlic
4 pcs Prik Ki Nu (Bird's Eye Chili)
a few sprigs of coriander
What you need to do:
1. Prepare all your produce. Chop all produce and place on a salad bowl.
2. Clean beef thoroughly and cut to manageable piece. We used tenderloin but we all know how expensive that is. You have the option which meat you like. Chicken is good too and so is lean pork.
3.
After cleaning, place on paper towel and pat to dry. Season with salt and pepper.
4. Over a hot pan, sprinkle a few drops of olive oil and cook for 4-5 minutes on each side.
5. Once cooked, remove from pan and set aside to cool. Once cooled, slice thinly.
6. Let's get to the dressing. After mixing all produce in a salad bowl, its time to mix the icing on top of this delicious healthy meal.
7. Drop all the dressing components on the small bowl and mix. Add the sliced chili or omit if you don't want that kick.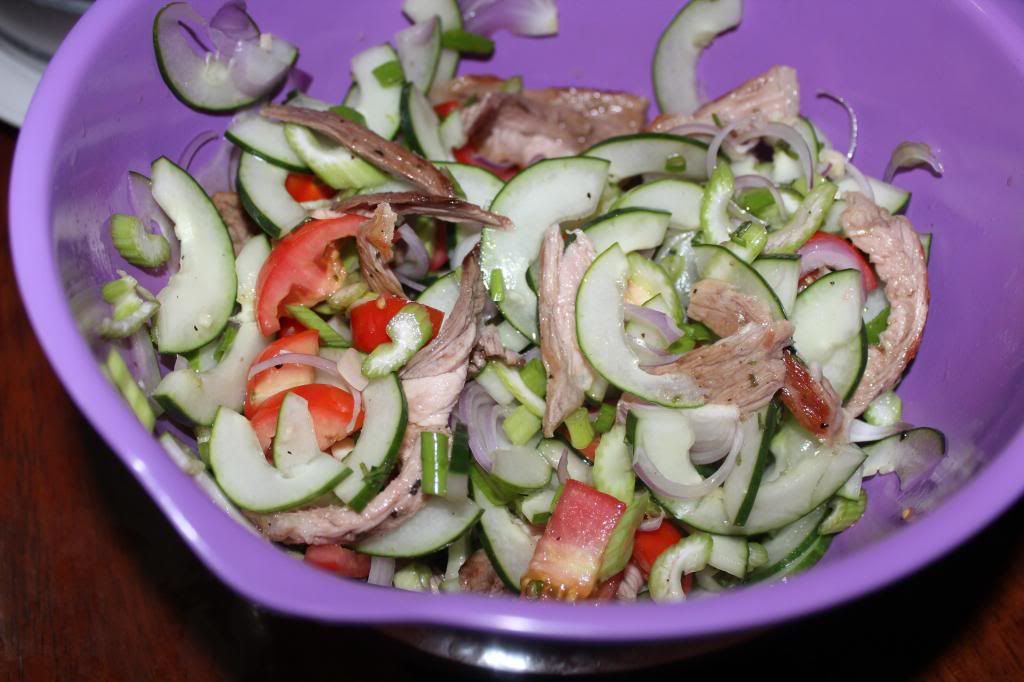 Satisfying on its own! Til next recipe. :)