Chicken Charlie opened a few months back and apparently, it took me a very very long time to visit them. One hungry night I came by and was craving for something healthy.
Yes, you read it right. I was looking for a healthy meal. Off to Chicken Charlie in IT Park, a few blocks away from where I work.
The place was deserted, I guess it's too early to eat dinner. Color theme leaned towards warm orange and red, the latter induces one's appetite.
There was enough space to go spare. The indoor seating could approximately hold up to 25-30 guests and there was an al fresco option as well.
Here is one of the trending gadgets in the restaurant business. Yes, you may have seen the same item on
Chatime
or any other place that would light up once your order is ready.
Charlie's Greens sold at Php135
I was craving for something healthy hence I opted for the Charlie's Greens. Fresh lettuce, slices of the freshest orange and with a vinaigrette dressing. Crunchy green leafy vegetables, crunchy and succulent chicken breast, sweet and tangy dressing. Just right for my tummy! :D
Value Meal A at Php86 with free drink.
Soy garlic chicken paired with a scoop of white rice. No need for condiments as the chicken maintained its juiciness and crisp. Definitely worth getting seconds. Should have opted for the 2 chicken meal combo. May look small but certainly packs a punch!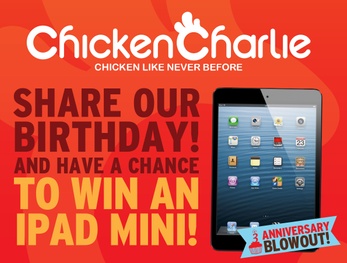 Celebrating 3 years in the food industry, Chicken Charlie is giving away an iPad Mini! For details visit the link here:
Share Our Birthday Contest
. What a perfect way to share the love for chicken and for saying thanks for the continued patronage. Here's to more years to come, Chicken Charlie! *chirp*
Chicken Charlie
E-bloc 2, IT Park, Cebu City